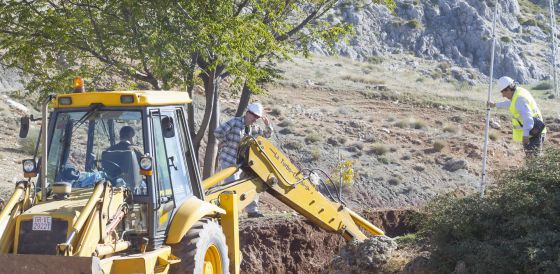 New search for Lorca's grave begins
Andalusian government says its only aim is to mark burial sites, not exhume bodies
Valme Cortés
Granada, 19 November 2014
Five years after the Andalusian government unsuccessfully searched for the body of poet and playwright Federico García Lorca in Alfacar, Granada province, diggers are back in the area.
Regional authorities have sent heavy machinery to begin excavating an area known as Peñón del Colorado, where researcher Miguel Caballero believes the unmarked grave of one of Spain's greatest literary figures could be.
García Lorca was executed by Nationalist forces at the start of the Spanish Civil War, on August 19, 1936. His body was never found despite a years-long investigation by the likes of Irish-born Hispanist Ian Gibson, who has spent around 50 years studying Lorca.
The new search for the grave is being conducted near the road between Víznar and Alfacar, around 500 meters from the site of the 2009 dig, which yielded
nothing more than a large rock.
The project is based on research by Miguel Caballero, who himself drew on field work conducted by journalist and writer Eduardo Molina Fajardo.
The remains of the author of Blood Wedding are thought to lie together with those of two bullfighters and a schoolteacher.
The excavation will cover 300 square meters and extract around 600 cubic meters of earth. Ground-penetrating radar was used to determine the patch of land most likely to contain a mass grave.
Regional authorities have been at pains to note that they are not looking to exhume any bodies – the decision on that would lie with the victims' relatives – but simply to locate and mark the sites of Civil War graves.